Featured Vacation Rental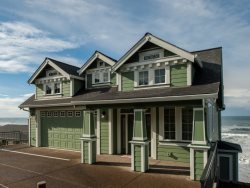 CROWN JEWEL - Lincoln Beach, Depoe Bay - NEW PROPERTY!!
Local Activities on the Oregon Coast
Plan your Oregon beach vacation to include one or more of the local activities while visiting the Oregon coast. We are very knowledgeable when it comes to Oregon coast vacation rental homes, locales and activities. If you need help, we're here to assist you.
Bird Watching

The Oregon coast is home to a multitude of species including Bald Eagles, Hawks, Owls, Crows, Ravens, Puffins, Sea Gulls, Pelicans, Herons, and migrating Canadian Geese. Nature's mix of sea, beach, rocky cliffs, coastal mountains and hills are combined to create an ideal habitat for a common American species, the bird watchers.

Clamming

Clam digging is an activity enjoyed by all ages. There are several locations for clamming on the Oregon coast; some of the best clam beds known for their size and taste are located in Pacific City (Nestucca Bay: Softshells), Lincoln City (Siletz Bay: Softshells), Newport (Yaquina Bay: Gapers, Butters, Cockles, Littlenecks & Softshells) & Waldport (Alsea Bay: Cockles, Softshells).

Crabbing

Dungeness crab, the taste that made Oregon famous. You can catch crab from piers and jetties. Some of the best crabbing locations are Lincoln City (Siletz Bay), Newport (Yaquina Bay) and Waldport (Alsea Bay). Rental boats and crabbing equipment are available at most locations.

Charter Boats

Charters in Newport and Depoe Bay offer Ecology Tours, Whale and Bird Watching, Sport Fishing and Crabbing. Charter boats offer fishing tours year around and sail for Ling Cod, Halibut, Albacore Tuna, Coho and Chinook salmon and a wide variety of rockfish.

Chinook Winds Casino

Majestically overlooking the Pacific Ocean from the Lincoln City shore, the 157,000 square foot Chinook Winds Casino Resort is Oregon's premier Casino. The casino is a Las Vegas-style facility with more than 1,100 slot machines, along with keno, bingo, craps, roulette, blackjack and poker. The "Concerts by the Sea" showroom seats more than 1,200 people and features monthly headline acts.

Finders Keepers

Finders Keepers is an annual promotion, which runs from Mid-October to Memorial Day featuring hand-crafted glass floats being placed along the 7-1/2 miles of public beach in Lincoln City, from the Roads End area to Cutler City. You find it, you keep it! Annually we put out the number of floats reflected by the year - so 2014 floats are placed on the beach in 2014.




Fishing

Here on the Oregon Coast it's a matter of choosing between salty waves, freshwater streams, rivers, lakes, or the bay. Some of the best salmon and steelhead fishing on the west coast is right here in along the Oregon coast. Devil's Lake is the home of Catfish, Bluegill, Trout, Bass, Yellow Perch and Crappie. In our rivers you will find Chinook Salmon, Coho Salmon, Steelhead and Smallmouth Bass. Charter boats from Depoe Bay and Newport target Ling Cod, Halibut, Albacore Tuna and Dungeness crab.

Golf Courses

Hawk Creek Golf Course is a 9-hole regulation length golf course in Neskowin. This short layout will reward good shots and provide a fun golf outing for everyone.
Chinook Winds Golf Resort, located in Lincoln City. This is an 18 hole course with many trees and hills that can affect your shots and cause uneven lies. Water hazards come into play on 6 holes. The 500 yard, par 5, 10th has a lake running along the entire left side with two large sand bunkers sitting on the right.
Salishian Golf Course, located in Gleneden Beach, offers a top caliber course that is a test of skill, from the front nine holes surrounded by old growth timber, to the back nine holes that pay tribute to origins of golf with links style play.
Agate Beach Golf Course is located in the picturesque town of Newport. This regulation 9 hole public course is built on relatively flat rolling terrain which is suitable for walking.
Crestview Golf Club, located in Waldport, is a beautiful, scenic 9-hole course with a friendly, family atmosphere. This golf course with its challenging layout is easy to walk, playable year-round, and open from dawn to dusk.

Horseback Riding

Pacific City offers horse rentals year around. Enjoy an unforgettable horseback ride on the sandy beaches of the Oregon coast.

Little Log Museum

The rustic little building in Yachats has been a part of this coastal community for generations. The Little Log Church Museum houses a rich treasure of local historical artifacts as well as contemporary works on loan as exhibits.

Newport`s Historic Bay Front

Enjoy a day touring Oregon's biggest commercial fishing fleet. With many galleries, boat tours, restaurants & gift shops. Visit Under Sea Gardens, Ripley's Believe It or Not, Wax Works and sea lions who inhabit many private docks at Newport's Historic Bay Front.

Oregon Coast Aquarium

The perfect family getaway to experience the mysteries of the ocean. The Oregon Coast Aquarium features underwater walkways that symbolically move you further into the depths of the Pacific Ocean, encountering different animals along the way. Explore exhibits of the Giant Pacific Octopus, Sea Otters, Seals & Sea Lions, Sea Bird Avery, Sandy Shores, Rocky Shores, Coastal Waters and much more.

Shopping

Discover popular shopping destinations along the central Oregon coast. In Lincoln City you'll find a collection of gift shops, antique stores, art galleries, delightful cafes and great restaurants in the Nelscott and Ocean Lake Districts, and the Tanger Factory Outlet Shopping Mall, which offers more than 60 brand name outlet stores and is open 7 days a week.

There are numerous other popular shopping destinations along the central Oregon coast. If you find yourself north of Lincoln City, in Pacific City, you'll find a collection of gift shops, antique stores, art galleries, delightful cafes and great restaurants. If you find yourself south of Lincoln City in Depoe Bay, Newport's Nye Beach District or Historic Bayfront District, or the small village of Yachats, you will have arrived in a stroller's paradise where you'll find enough gift shops, antique and art galleries, and fine dining choices to satisfy your shopping needs.

Skateboarding

The Lincoln City skate park, awarded 9 out of a possible 10 by "Thrasher Skateboarding Magazine" is one of the best skate parks in Oregon. Part of the park is a dome shaped cradle and allows the boarder to skate upside down if his/her speed is sufficient. The 8,000 square foot facility has a 9-foot bowl and more than 100 lines challenge all levels.
Newport and Waldport have skate board parks too!

Surfing

The Oregon coast is well known for great surfing spots; its big waves and smooth sand attracts annual surf contests from Pacific City to Yachats. Some of the best places to surf on the coast are Pacific City (Cape Kiwanda), Lincoln City (Road's End), Otter Rock (on the south side of Cape Foulweather), Newport (Agate Beach on the south side of Yaquina Head and South Beach State Park), and Yachats (Yachats State Park).

Whale Migration, Whale Watching in Oregon

Twice each year, approximately 18,000 whale travel along the Oregon coast on their 12,000 mile migration. Read more information about whale watching on the Oregon coast.

Winter Storm Watching

Winter season is a great time to visit the Oregon coast as the waves put on quite a show with dramatic 80-mile-an-hour winds, horizontal rain and crashing surf. Read more about Winter Storm Watching on the Oregon coast.






Area Guide Links